Whilst there are many causes of low back pain and there is no quick fix, there are ways in which we can manage this pain via monitoring technique whilst swinging.
Whilst maintaining a correct hip hinge is vital throughout the movement, we also want to be wary of the end phase of the swing and creating a muscular end feel through a core brace. Commonly low back pain complaints occur due to this brace not being maintained, the hips fly forward and the low back falls into extension. Couple this with repetitive swings and under load this extension moment is further heightened at those low back vertebrae.
Correcting this can be as simple as finding your neutral position for your back and making sure when swinging that you don't progress further past this point into extension.
This can be further trained by setting up a band on the chin up bar as pictured. Slowly with straight hands pull down on the band and then slowly release being aware of not falling into that extended position in your low back. This is basically a regressed kettle bell swing but focus on creating this brace position especially on the controlled release of the band.
[fusion_builder_container hundred_percent="yes" overflow="visible"][fusion_builder_row][fusion_builder_column type="1_1″ background_position="left top" background_color="" border_size="" border_color="" border_style="solid" spacing="yes" background_image="" background_repeat="no-repeat" padding="" margin_top="0px" margin_bottom="0px" class="" id="" animation_type="" animation_speed="0.3″ animation_direction="left" hide_on_mobile="no" center_content="no" min_height="none"]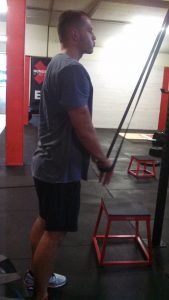 Again, there are many causes of low back pain and many of which are still unknown. However being more educated in your training and rehab will lead to fewer injuries.
MOBILISE – STABILISE – OPTIMISE[/fusion_builder_column][/fusion_builder_row][/fusion_builder_container]
BOOK ONLINE