Are you frustrated and limited by your back pain?
GLA:D® Back is a treatment option for people with persistent or recurrent low back pain that affects everyday life.
The program combines education and exercise classes to refine your understanding of low back pain and build on your self management skills.
GLA:D® Back program is also a research program, embedded in an international study led by researchers at Macquarie University and The University of Southern Denmark. We highly encourage you to participating in the recording of your low back information to assist in future research. Not participating in the research side does not exclude you from the treatment program. 
The GLA:D® Back runs over 9-weeks and involves an initial assessment with goal setting, and recording your baseline measures. You will then participate in two small-group education sessions covering the latest evidence in back pain. Following these two sessions you will then participate in 8 weeks of small–group exercise classes 2 times per week. The exercise classes are individualised and progressed over the 8 weeks. At the conclusion of the program we will run a follow-up assessment, goal reevaluation and recording your follow-up measures. You will be asked to fill out follow-up surveys by email at 3, 6 and 12 months.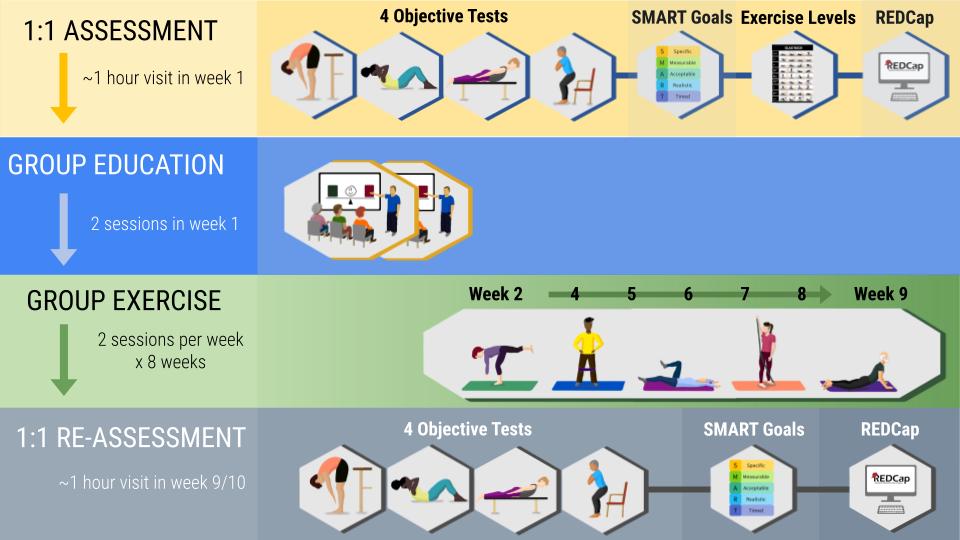 Book your first session
Timetable & Fee Schedule:
Timetable:
Assessment sessions are made by appointment with your practitioner. Can be organised online or over the phone.
Small group exercise classes are available on:
Mondays – 5.30pm
Other times are available on request
Book online
Fee Schedule:
1:1 sessions available by appointment to begin GLA:D Back Program.
GLA:D Initial Assessment (new patient) – $160
GLA:D Initial Assessment (current patient) – $100
Small group classes (maximum 4 people per class) – $45 per class
Block of 8 x exercise classes ($45 /class) and 2 x education sessions ($30/session) – $420
*Private health rebates may apply. Check with your health fund or medical practitioner.
What you can expect from our GLA:D back program:
Clearly explained plan
We provide the tools to help you exercise
Plans are specific to you and progressed as you improve
You'll be empowered to take control of your back pain